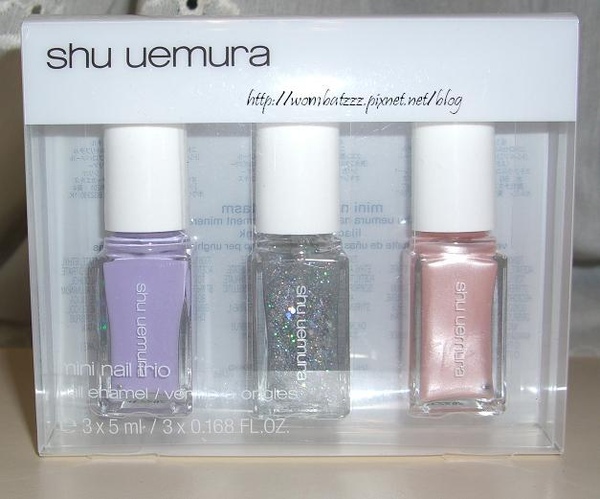 植村秀2009春妝綺光遐想迷你炫甲組$800NT. 分為"紫丁幻影"還有"藍色狂想".
春妝是走粉嫩路線的"療癒系性靈美妝",總之是粉粉嫩嫩的色系. 每色是5ml,平常全容量的單隻指甲油是10ml.
While I'm compiling other Spring collection posts I thought I'd better keep the blog flowing...here's a quick one!
This is the Spring 2009 Shu Uemura collection which includes two limited edition nail polish trio sets (they are a fair bit smaller than the full sized Shu Uemura nail polishes, exactly half the size- 5ml each, full sized ones are 10ml). Retails for 800NT in Taiwan, which is about 24USD.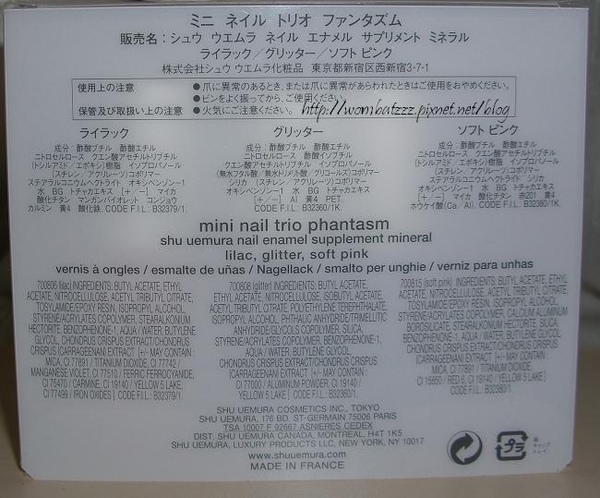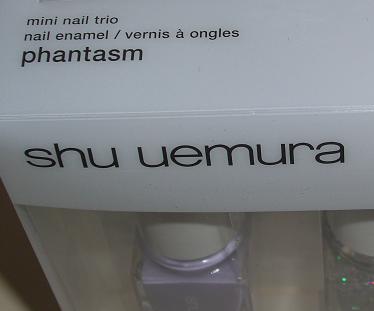 我挑了紫色那組"紫丁幻影",內是薰衣草淺紫,透明底亮片,淺粉紅.
I got the first set 'Phantasm', which features three shades, Lilac, Glitter and Soft Pink: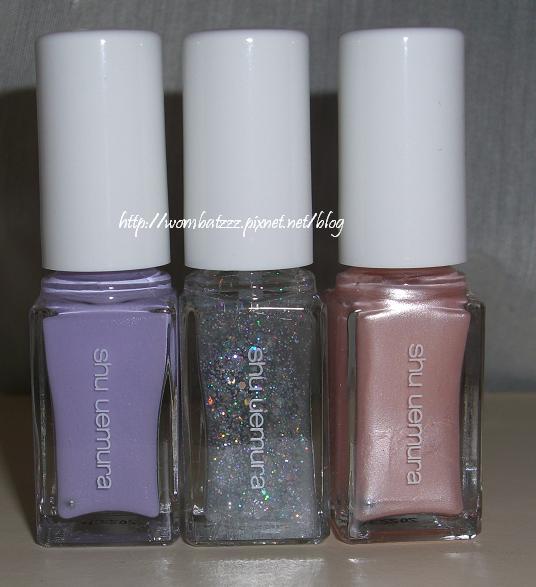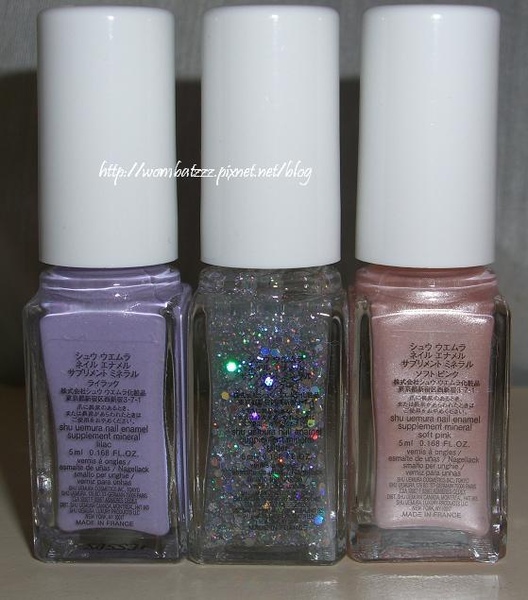 1. "Lilac"-
第一色Lilac是標準的淺薰衣草奶油紫色, 成色是亮澤感,兩色就完全蓋住指甲的原色,滑潤而很好上色.沒有明顯的亮粉.
雖然瓶中或單看是很好看的顏色,不過在指甲上真的是很奇怪的色,有點詭異的可愛感=.=.........看來是只適合拿來指甲彩繪或細部用. 下面試色隨便塗一塗..
"Lilac" a pure lilac creme with glossy finish, no shimmers or glitters, very opaque in two coats.
However it's a disaster since perfect lilac creme just doesn't look right on the nails... (as sweet as it looks in the bottle i think it's one of those shades that struggles to look good on common nails, much like pale green cremes or pale blue cremes....unless u were doing a photoshoot or makeup promo..or using in small doses for decals or small prints.)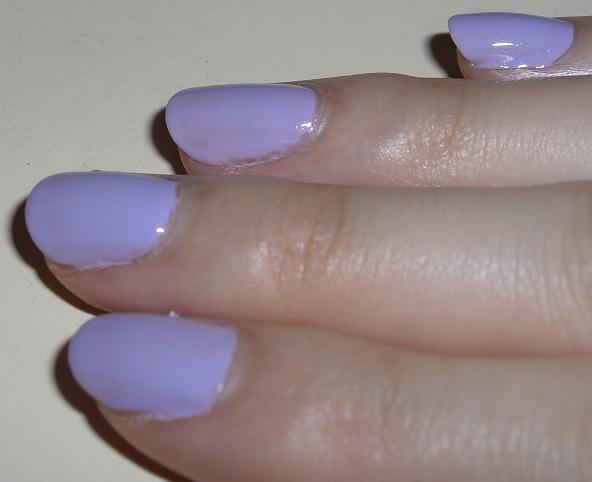 下面是三色隨便玩著疊色, 由右到左:
紫疊亮片,多一點大的亮片.
紫疊亮片,薄薄的細的亮片.
紫上疊粉紅,變成有一點銀粉紅灰感.
單疊兩層紫色.
Right to left: (I dont like this pic and certainly would prefer better looking pics on my blog but for the sake of the review...):
Lilac topped with lots of glitter shade
Lilac topped with the smaller glitters (the glitter shade is versatile...you can put more or less depending on preference)
1 coat lilac, with pale pink shade over it- looks like a strange grey pink- not good.
Pure lilac, 2 coats- you can see it does have a good finish.
But my fingers look so wrong..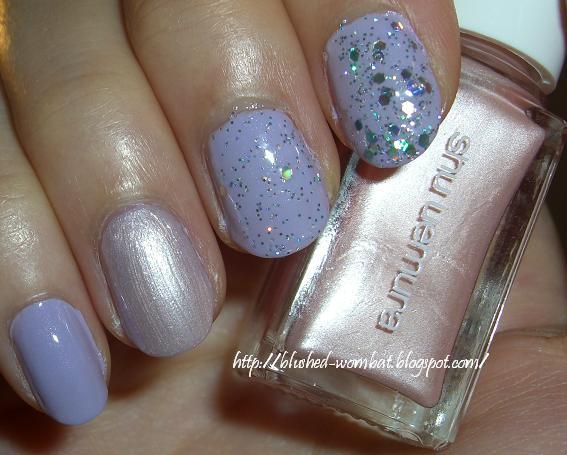 2. Glitter 亮片色, 是透明底指甲油裡面有大小不一的銀色亮粉,或小圓亮片. 疊在深色上應該會美很多,很適合指甲彩繪的疊色.
"Glitter" shade- this is much like the limited edition releases in Sonia Rykiel's Christmas polish collection and I know some Japanese brands occassional release glitters like this size. It's a clear nailpolish base with tonnes of various sized glitters (from standard small glitters to larger circular glitter circular flakes), gives a very dramatic and cool effect if you do like glamorous or more into the intricate Japanese type of sparkly nails.
Here's my sloppy pic with glitter shade topped over the lilac. Personally I think the glitter shade would look amazing if you were doing a candy soft pink nails with sparkles or a dark vampy shade with dramatic glitters.
If you like pre-mixed glitters of varying size similar to this but in a pre-colored base, I suggest the Kanebo Coffret D'or line- they have some good glitter topping shades in red/pink/blue/green etc. The consistency is great too. I'll do a separate post on all the Coffret D'or polishes I have down the track.
3. 淺珍珠粉紅色. 就是標準的粉紅色,帶少少金屬銀感,沒有什麼缺點也沒有什麼很特別的的就是了.. 適合上班擦的色. 底下試色的是兩層後加上Seche Vite快乾亮光透明色.
"Soft pink". A frosty pale pink pearl, it's like a silvery pale pink, I dont really like frosty shades but this is half frost + a pearly finish. It's a decent office shade and reminds me very much of OPI 'Pistol Pack'in Pink' polish. This is a little bit too generic a color, I'd wear this but not my top pick shade.
Here's my full mani photo with it, 2 coats, daylight soft flash, no base coat but with Seche Vite top coat: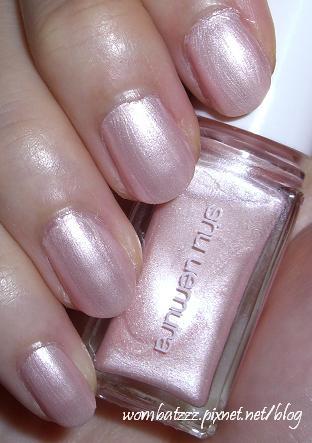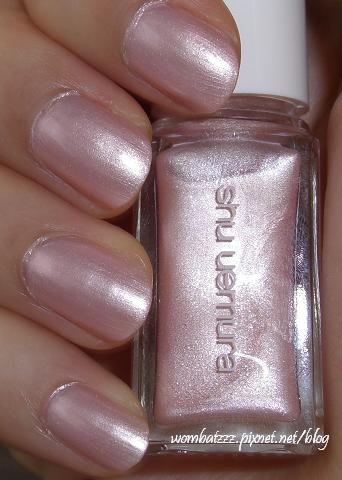 Daylight, no flash, shade.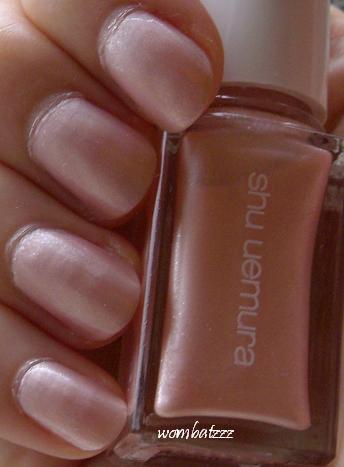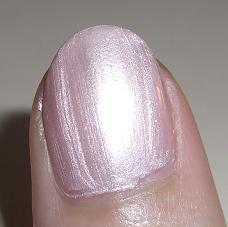 植村秀的刷頭還算不錯,雖然一層會有少少的刷痕,不過加上透明指甲油後就看不大出來.
指甲油的質地算潤滑而好上色,即使這款是迷你瓶的,表現和平常全容量的指甲油一樣.
Shu Uemura brushes are good even in the smaller polishes, the pigment is rich and even for these three shades, unfortunately because the pale pink one is a frost finish, it has the same tendency as most frosty polishes that you'd need two good well painted coats to minimise streaking or uneven finish. One coat looks too uneven on my nails.
They are not quick dry, a good 30min later they'd still get dented and smudged without a fast dry topcoat (I applied Seche vite top coat). Werability is decent - I always use a topcoat though. Day 3 and still looking perfect.
Comparison of the regular sized nail polishes against the trio, mini ones are 5ml and regular full sized ones are 10ml: (the red one is "Deep Velvet", I think it's a limited edition shade from one or two collections ago).
比較這組5ml x 3 的大小跟普通植村秀的10ml. (紅色那色是一兩季之前的限量品,色號是"Deep Velvet".)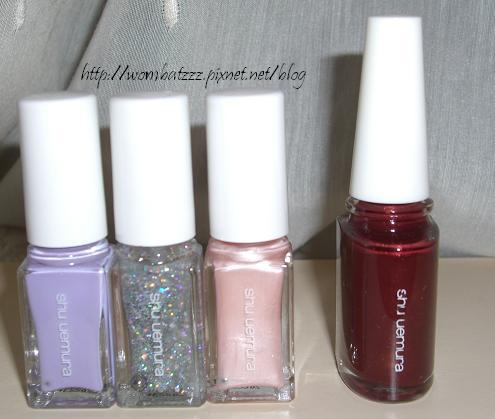 另一組色是"藍色狂想",如圖下,淺膚金/淺藍/亮片色.
The other set is called 'Rapsody', which features a pale blue creme, a glitter shade (looks same as the Phantasm set), and a frosty pearl champagne sand beige). I didn't get this set because the glitter looks the same (although it's good glitter!), the frosty pearl beige I probably got similar colors everywhere (and I dont really like frosty finishes), and the creme blue- what would I do with it!