DOLLY GIRL LIL' STARLET NAIL COLOR
限量新品 售價NT$500 /7.9ml 共3色
這次入手的是安娜蘇的2008年夏季限量彩妝的好萊塢巨星洋娃娃指甲油 (雖然2009年都過一半啦..)
本來是一組三色590台幣,不過被某賣家賣貴了因為我以為這隻是一般容量的..只拿了第一色"#01 Liz 粉紅巨星".
這一組跟一般系列的設計不同,只有5.9ml,普通是10ml的(10ml的單價是500NT).
iswii的圖不大準,把那粉紅拍淺了許多. (最左到右是#01, #02, #03)
 好萊塢巨星之所以星光燦爛、魅力四射,最主要的原因就是巨星們永遠都保持著最完整、最完美的妝容,從頭到腳都要求要時尚有型。纖纖十指也當然是大家競相爭艷的戰場之一,有了好萊塢巨星洋娃娃指甲油的烘托,每個小魔女都擁有成為好萊塢巨星的秘密捷徑!
 01 Liz 粉紅巨星: 以清亮的粉紅色調為基調,搭配上銀色珠光及粉紅大亮片,創造出絕對甜美的風情。
 02 Clara火紅巨星: 以火紅色為基色,搭配上粉紅珠光與粉色大亮片,舉手投足都令人過目難忘。
 03 Myrna 金色巨星: 金黃的色彩基調富含著金色珠光,以及金黃色大亮片,隨時隨地都自信完美。

Anna Sui 2008 summer holiday collection nail color, released in Taiwan May 9th 2008. These are $590NT (18USD) for a set of 3, each bottle is 7.9ml (smaller than usual size of 10ml which retails for $500NT (approx 15USD).
Unfortunately I only managed to get 1 of them, which is #01 "Liz", the pink star featuring a crystal pink as base color, with silvery pearl shine and large pink flakes.

The other two color descriptions based on Chinese infos I found:
#02 Clara is the flamey red star, features fire red with pink pearl shine and large pink flakes.
#03 Myrna is the gold star, with a golden base tone and golden pearl shine and flakes.
I think I can finally get back to posting...some crazy work and study commitments really took up a lot of my time (in addition to by holiday back to Taiwan! not many cosmetics purchases surprisingly though!). Apologies to any blog followers :)
A quick and easy post about an Anna Sui nail color (followed by my previous post about Shu Uemura nail color for a reason).
瓶身是透明玻璃,刷蓋是黑色印著招牌的Anna Sui 洋娃娃頭像,三隻的圖案都不同,本身來說我是比較愛Stila的娃娃囉..
The bottle has a cute Anna Sui doll on the print (personally I've never really been into Anna Sui dolls..they look a tad...creepy? to me...I'm more fond of the Stila girls to be honest). The bottle is different to the old design in the potion vial shaped design, or the new nail color design in the pretty rose bottle, it's just a plain round bottle now.
顏色是很日系公主粉紅帶著很綿密的亮粉還有亮片,由三種大小組成: 最細的亮粉閃著銀粉紅光,單只有這種亮粉的話蠻像OPI幾隻指甲油特殊的金屬光粉感(Cozu Melted in the Sun, Princesses Rule! 等色). 不過它還有大一點的閃著彩色光的銀底碎亮片,最後是圓形的銀色閃七彩的亮片. 很華麗的公主明星風就是了. 比起一些日系開架的亮片指甲油質感好了很多(如Canmake...那亮片又不均).
Now the color, it's a sugary pink with very even metallic reflective shimmers throughout, it's very fine, a bit like the base shimmer in various OPI shades like, 'Princesses Rule!' and "Cozu melted in the sun" etc, sort of foiled metallic finish. The only twist is it also has fine glitters inside, then also large round silvery rainbowy glitters for an ultimate glamour bamm!
其實他的粉紅有點普普,不過大小不一的亮片是主要的賣點囉. 兩層上去就很顯色,如瓶中般的粉紅,亮片也是一樣均勻上色,最後加上透明的top coat,摸起來雖然感到稍稍不平,不過還是比想像中的平滑,不會勾到東西什麼的就好了~
While the pink is a bit standard, but the varying sized shimmers (they are actually 3 uniform varying sizes- the metallic foil shimmer -> the fine glitters -> larger circular glitter flakes. This gives a great dimension to the polish, with a topcoat applied over it, it still looks glossy and very glamorous-princess sort of look.
本來想說底色有點像OPI Yokohama系列主打色之一的色"Cherry Blossom" (櫻花). 不過比一下就看的出OPI比較春天色,稍淡一點的盛開般的櫻花色,Anna Sui 比較夏季華麗感的粉紅. 下面有OPI圖:
I thought the pink base reminds me a little bit of the OPI 'Cherry Blossom' color, but on further inspection the OPI one is more subdued and low profile sort of spring color (nevertheless, it does sparkle a little bit!), while the Anna Sui one is a tad more vibrant and summer-like.
後來怎麼看,發現這色根本是粉紅版的
植村秀2009春妝綺光遐想迷你炫甲組中的透明底亮片色!
(前一篇文)
就是比較便宜外加可以單用而不用疊色就是了.
It's quite similar to the silvery color in the Shu Uemura trio collection (another LE), featuring silvery glitters and circular glitter flakes etc, other than it is more wearable on its own since there is sufficient base color.
如一般安娜蘇指甲油的品質般, 兩層上色就很均勻囉...帶有招牌薔薇香,還超香的,一天後都還聞的到指尖有飄香(是不是有點恐怖...) 擦了三天後就會少少掉色或撥落囉,跟我擦他牌的指甲油的持久度差不多. 不過這色是限量品, 現在還找不找的到我就不確定了.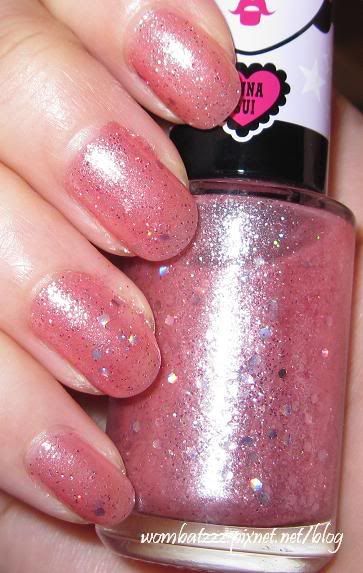 On my nails you can see two coats gives great opacity to the pink tones.
Overall excellent quality polish, fast drying, layers easily, despite the larger looking flakes, they adhere to the nails well and still managers to apply in a smooth layer. With topcoat it looks glossy, however due to the size of the larger glitter flakes it will feel a tiny bit bumpy on the nails when you touch it (not annoyingly bumpy though).
Thumbs up, I've been wearing this to work for a few days (not out to client) and it's understated enough not to look tacky, while glamorous enough to receive a few compliments. This was an limited edition release so might be a bit harder to find though.

The summer collection also features 3 lipcolors (#01 Liz, pink, #02 Clara, red, #03 Myrna, gold, all have simlar color descriptions to the nail colors, e.g. pink base with silver shimmers or red with pink and silver shimmers or gold with loads of golden shimmers), and 3 mascaras (lengthening, curling, separation).
這夏季彩妝當初還有出三款睫毛膏還有三款唇蜜.
Pics courtesy of iswii.net
好萊塢巨星洋娃娃睫毛膏
DOLLY GIRL LIL' STARLET SUPER MASCARA DX
限量新品

售價NT$850 /7.5g 共3款
< 3D美唇 輕鬆創造勾引魔力>
好萊塢巨星洋娃娃唇蜜